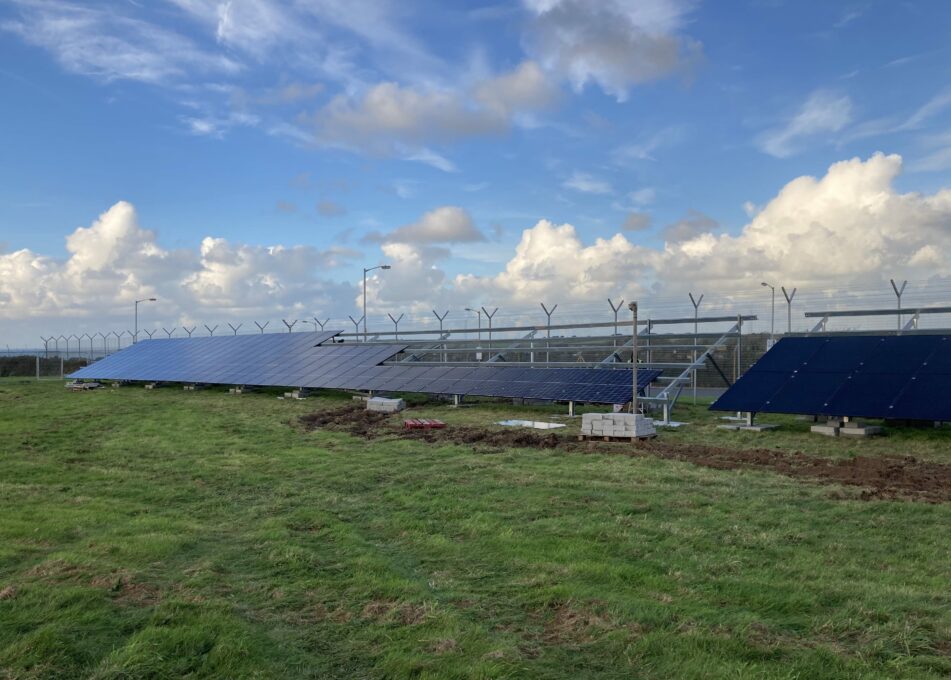 Project Summary
Cornwall Council has an ambition to deliver 2MW of renewable energy generation across their commercial estate per year.
As part of ongoing work to help meet this ambition, South West Net Zero Hub identified Cornwall Airport Newquay as a potential site for a solar photovoltaic (PV) system. The Hub worked with Cornwall Council and Cornwall Airport Ltd to develop and deploy a 165kW ground-mounted scheme connected to the airport's terminal building.
Cornwall Airport Ltd has entered into a Power Purchase Agreement (PPA) with Cornwall Council, to purchase energy generated and used on site at a discounted rate compared to the prevailing grid import rate.
Background
The scheme aims to supplement existing on-site renewable energy generation, reducing carbon emissions, operational costs, and supporting local supply chains such as South West based solar PV contractors and equipment suppliers.
Our Role
The Hub supported the scheme in the following ways:
Identifying the scheme
Engaging with Council and Airport stakeholders
Securing grid connection
Supporting preparation of the business case
Preparing and submitting a pre application
Creating a technical specification
Evaluating supplier bids
Providing ad-hoc technical support
Interventions by the Hub overcame barriers to success, preventing the scheme from stalling.
Location
On land adjacent to the terminal building at Cornwall Airport Newquay. The land is owned by Cornwall Council.
Technology
Solar photovoltaic (PV) – 165kW ground-mounted system connected to the Terminal Building. The roof of the Terminal Building was deemed unsuitable for solar PV installation.
Financing and Ownership
The scheme is funded by Cornwall Council's £30m Renewable Energy and Low Carbon Technology Fund. It will be owned and operated by Cornwall Council.
Benefits
The scheme is expected to generate 172MWh per year of renewable energy and save 33tCO2 per year, equivalent to powering 59 homes. Any financial benefits are shared between Cornwall Council and Cornwall Airport Ltd.